Newsletter #12: Wheelbarrows of Durian
A pandemic diary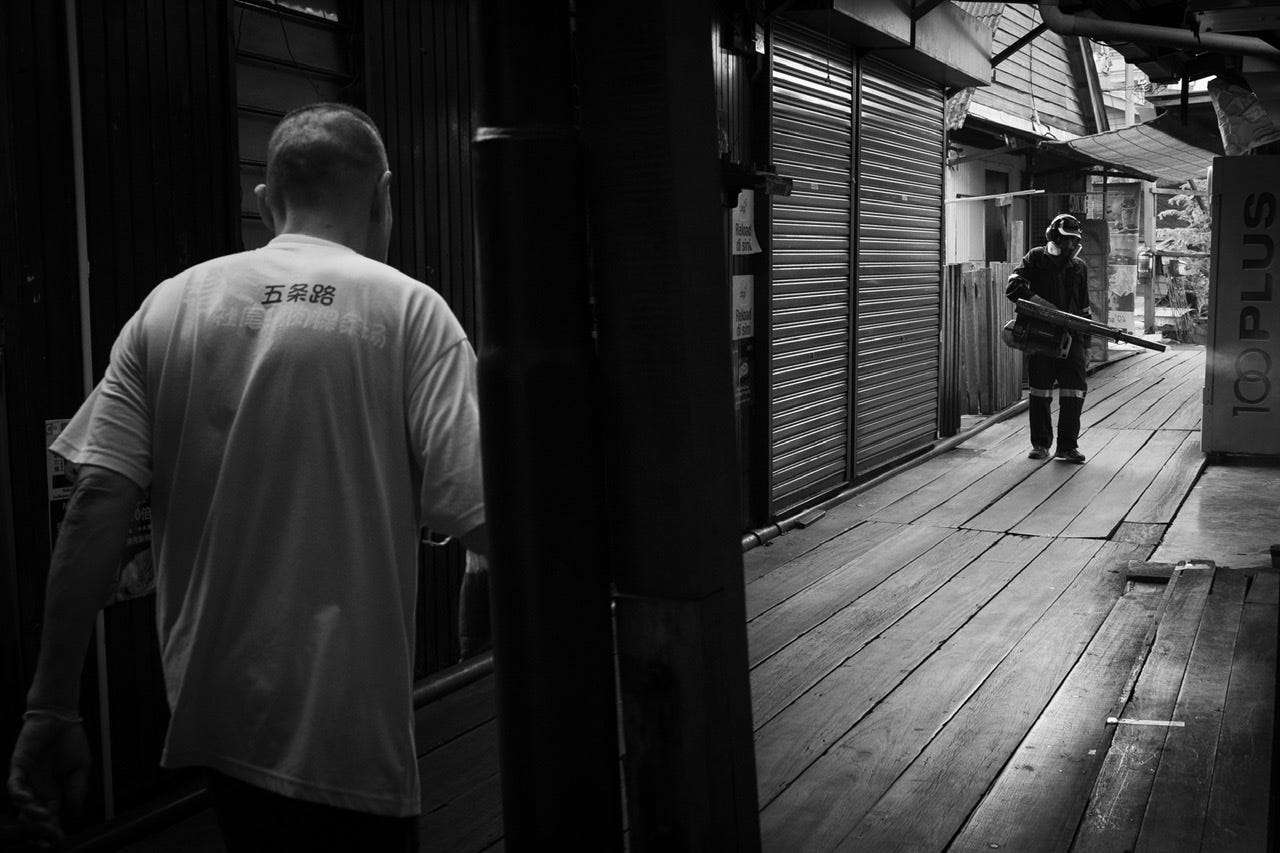 Our train pulled into Butterworth at dusk, two hours behind schedule. We walked with the other passengers (half without masks, at least one or two coughing lustily) to the ferry launch across the water from George Town. Although there couldn't have been more than twenty people waiting to board, there was somehow a crush at the gate. Once on deck, however, social distance was restored. The strait was calm and sunset pink. On our port side was Jerejak Island, where they tore down the old leprosarium to build a beachside resort. It was the evening of March 10.
C and I had spent February in Malaysia's rainforests, visiting outposts of hunter-gatherers and autonomous Temiar villages. When we left for Penang, we had just finished three days of research in Ipoh, an old tin mining boomtown. With its covered arcades and concubine alleyways, Ipoh was picturesque but eerie, like the photos going around of the Great Mosque of Mecca's empty white floor, or the clarified, unsedimented canals of Venice. We assumed the restriction on flights from China was the reason shops were quiet. Wheelbarrows of durian had no buyers. But reality had not really set in. We were sharing our hostel with a suntanned family of five from Perth, halfway through a vacation they seemed grimly determined to enjoy. On the ferry, I remembered the young mother coughing into the kaya jam one breakfast, and instinctively felt my lymph nodes. Nothing.
Some writers are already shut-ins. At the moment, I envy them. Last December, I signed a contract to write a book about communities in extremis—refugees, nomads, smugglers, separatists—people living literally at the furthest reaches and in the shadow of the state. It would involve six months of travel across Southeast, South, and Central Asia. We sublet our apartment in Berlin and flew to the Philippines on January 10, eleven days after the World Health Organization announced the discovery of a novel coronavirus in Wuhan.
Two days later, Taal Volcano erupted outside of Manila, coating the parked cars in Poblacion with a gossamer of white ash. Thousands living around the caldera were evacuated and N95 face masks were sold out for weeks in pharmacies as far south as Zamboanga, 500 miles away. What a disaster, we thought at the time. On January 15, as we met with a veteran political prisoner in the Cordillera, the crater was still smoldering and the head of China's Center for Disease Control and Prevention was declaring to the world that "the risk of human-to-human transmission is low."
Disembarking the ferry in George Town, we hailed a taxi using an app called Grab. Our driver was wearing a blue surgical mask and listening to "Memories" from the Original Broadway Recording of Cats. Later, C made the observation that this was the last piece of music we would hear ambiently, in public. The cab dropped us at our home stay: a studio apartment on the twenty-ninth floor overlooking other mostly vacant high-rises and mazes of stilted homes by the shoreline. Rich atop poor. It's a view we have come to know well.
The next day, we went to see the Chinese clan jetties, built a century ago to house migrant dockworkers along Weld Quay. Men in gas masks walked along Chew Jetty with disinfecting guns that looked like leafblowers, blasting hot air and chemicals into open living rooms. We got back to the apartment and begged our host to extend our stay through the end of March, self-quarantining that very night. A few days later, lockdown began. Security guards ushered stragglers off the beach. The army was deployed to enforce road blocks; just today, C received a text message in Malay: "Photographs showing ATM / armored vehicles on the road are fake news that is intended to cause public anxiety." The local news channel ran a video of a cardiologist in George Town arguing with a cop over the right to jog.
Still, we took a walk by ourselves to the fisherman's wharf two days ago. No one stopped us. There was no one to stop us. As we walked, I found all the usual travelers' exotica transformed into apocalypse porn: packs of wild dogs, crumbling piers, weatherworn temples. Normal wildness and rot was suddenly portentous. The world had retreated to the furthest reaches. Everywhere is in extremis. Malaysia's Movement Control Order is set to end on April 1. Friends in George Town warn us it will probably be extended. Either way, we don't know where to go. ■
—
I wrote the above "pandemic journal" for the New York Review of Books. You can read it and many others here. It's a fascinating document, if only because it shows how many of us are having the same thoughts. There isn't much room for originality. Maybe that's why plagues inspire so little literature. Maybe if we weren't all reading the same news, the same feeds…
It is also very hard to focus. I'm reading about 12 e-books at once, a few pages at a time, an unhealthy habit I can't seem to overcome. Reading late into the night and getting up early (our home stay in Malaysia has thin curtains—the room is bright a few minutes after dawn). G.K. Chesterton's Father Brown stories, pulp crime novels from France, two books by John McPhee (always soothing for some reason), Robert Macfarlane's Underland, Braudel's Memory and the Mediterranean, new books by my friends Adrienne Raphel and Evan James, Anna Segher's Transit. Essays by Simon Leys. Defoe, of course. Not sure I'll remember anything about any of them. For exercise, we are running up and down the apartment building stairwell.
Macfarlane picked a story of mine for this year's Best American Travel Writing anthology. It's my second year to make it in, but I imagine we are now arriving at an end to travelogues of a certain kind. Physical movement is tricky these days. 158 people have been arrested for movement violations here in Penang. One man escaped the police by jumping from a fishing jetty and swimming toward the sea, refusing to come ashore until the officers gave up for fear he might drown. They rounded up the men waiting at the fishing lodge instead. Others have been arrested for hunting birds. A man was arrested for grocery shopping four times in a day. 49 undocumented workers in Sabah were arrested and deported to the Philippines. They are now quarantined in Tawi-Tawi in a single building. In Kelantan, police officers are arresting those who leave home to fly kites.
So—stay safe, keep flying kites where you can.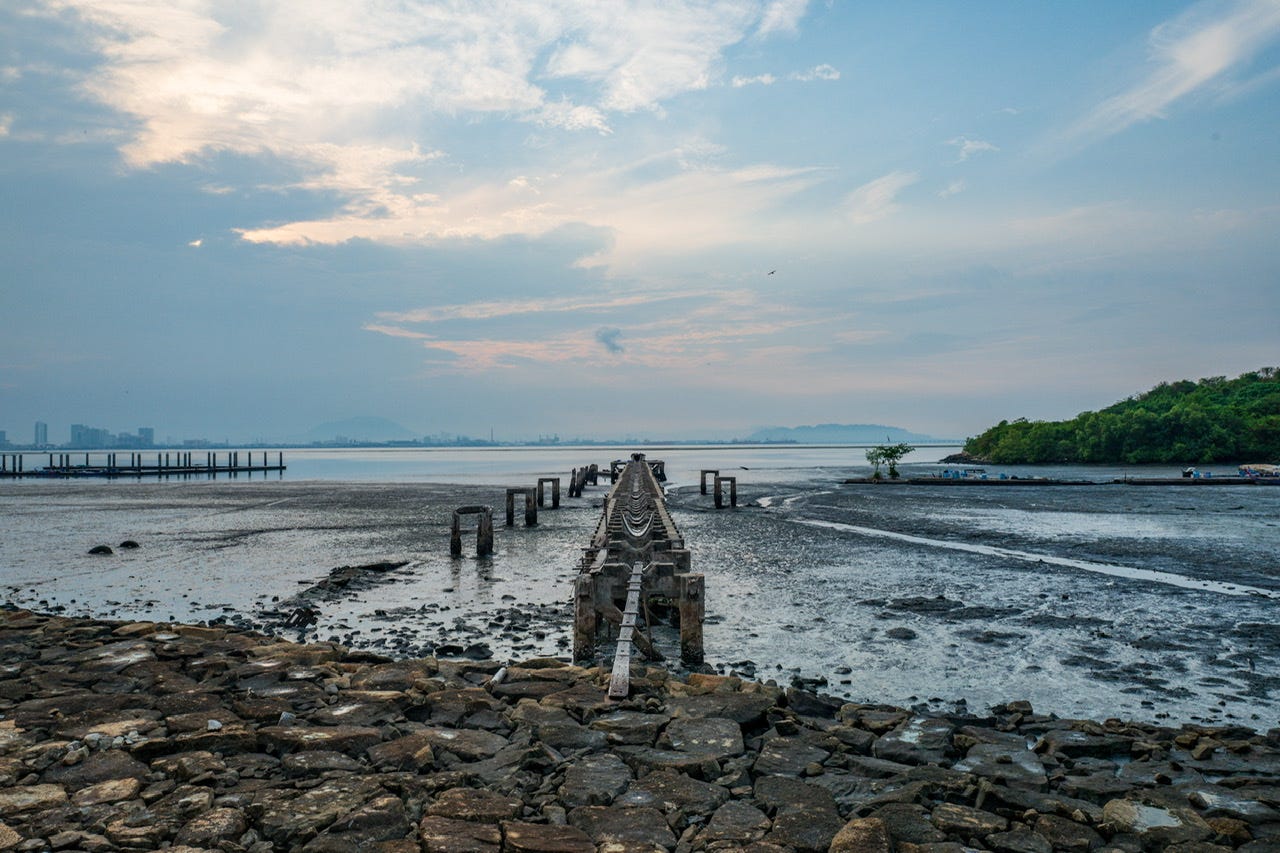 xoxo,
Ben
Photos: Carleen Coulter