Newsletter #8: New Work / Turned Tables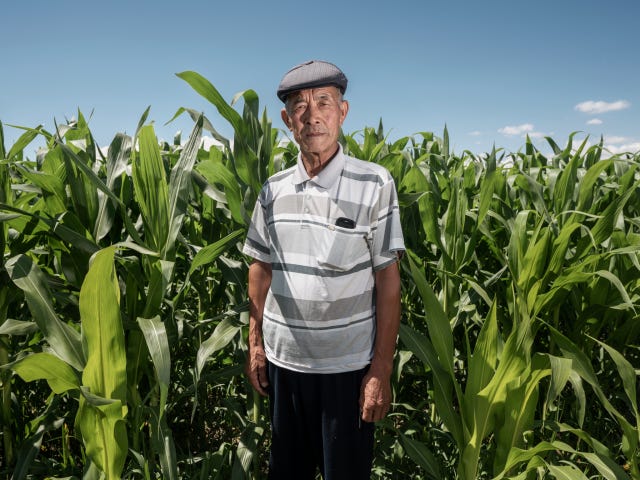 New Work / Turned Tables
I spent most of 2018 working on two long reported stories that are finally coming into the world. The first dropped this week, the same day as a shorter, unrelated story whose reporting began several years ago, and the other major project will appear in March (fingers crossed). Don't be deceived by this rapid-fire publishing rate. It's an aberration. Soon I'll go mercifully silent again.
The Trillion-Dollar Nowhere:
For the cover story of this week's issue of The New York Times Magazine, I traveled to the border of Kazakhstan and China, where — at a remote frontier village near the Eurasian Pole of Inaccessibility — the hub of the largest infrastructure project in the history of humankind is growing. It's a travel story about, among other things, international market economies, pastoral nomads, smuggling, freedom of movement, and a brutal system of concentration camps in Xinjiang. In short, it's about the human cost of connecting the world.
I pitched this story to the Times last March, around the same time I applied for support from the Matthew Power Literary Reporting Award, so it's been a major part of my life for almost a year. Over that time it has evolved from a piece more narrowly focused on the experience of pastoral nomads in a rapidly modernizing part of Kazakhstan into a much weirder story about the relationship between feats of market-driven statecraft and authoritarian systems of surveillance and control: a study of the free movement of goods and capital vs. the free movement of people. I'm grateful to the Times, in particular my editor, Luke Mitchell, for shepherding it through that transition. I'm excited to see it out in the world, with video and photos, including the photo of the farmer named Nunur at the top of this letter, by the one and only Andrea Frazzetta, who traveled with me in Kazakhstan last July and August (and who was also the photographer for my last story for the magazine). I'll probably have more to say about the process of researching, reporting, and writing this story in letters to come, and may share cut scenes and other ephemera as I'm able.
America's Last Uranium Prospector:
For the Pacific Standard, I wrote about America's last uranium prospector, a former Army engineer who lives in Prescott, Arizona. It also features the Grand Canyon, national security, and the legacy of the atomic frenzy in the American West. Long-time readers will remember my 2017 feature in Harper's Magazine about the uranium belt, an uncanny collection of abandoned mines, radioactive wastelands, and decrepit former boomtowns scattered across the Colorado Plateau. Gregory Yount's story didn't make it into that piece, partly due to length constraints, partly because his story was a little far afield from the others I was telling, and partly because his court appeals were still pending. But I kept following Yount's efforts and, by the time the Supreme Court decided on his appellate case, last October, his story had a shape of its own.
In revising my 2016 reporting for publication, I dug back into my research on the mid-century uranium rush, focusing this time on the individual prospectors who transformed the region while stoking a mythology of extraction that continues to shape debates over natural resources in the West today. Between buying the story and publishing it, Pacific Standard went all-digital, which means the piece appears only online but also that I had more room to fill in this historical context—on the whole, a good tradeoff.
Tables Turned
I don't want to leave you with mere self-promotion, so here's an anecdote from my reporting in Kazakhstan.
I was generally surprised by how free I was to roam around the border with a photographer, interviewing whomever I wanted; Kazakhstan's government is notoriously intolerant and suppressive when it comes to its own press, and I'd expected more resistance from authorities. But the occasional pushback or artful misdirection on the part of handlers at official functions was so slight as to hardly be worth mentioning. It seemed to me that the established narrative around Khorgos — that it is an unalloyed positive development, and that it represents the virtues of progress, development, growth, and industrialization, not to mention international cooperation — was so entrenched in the minds of its promoters, and had been parroted so uncritically by the vast majority of visiting journalists, that the possibility of a more critical, progress-skeptic account never entered anyone's minds.

There's also a more generous interpretation, of course: Khorgos's planners and promoters may believe there is no such thing as bad press (I'm not convinced they're wrong!), and that a story depicting the mixed reality of Khorgos would both reflect well on their efforts and demonstrate the sort of admirable commitment to transparency that can be convincing to investors and the few remaining foreign governments who care at all about such things.
What was remarkable was the degree to which my presence in and around Khorgos was treated as a news story in itself. When I visited the dry port, Andrea and I were followed by a photographer — not for security reasons, but so that the port could prepare its own press materials on our visit. (Here the photographer caught Andrea and I taking a selfie atop a gantry crane at the dry port; our fearless fixer looks on.)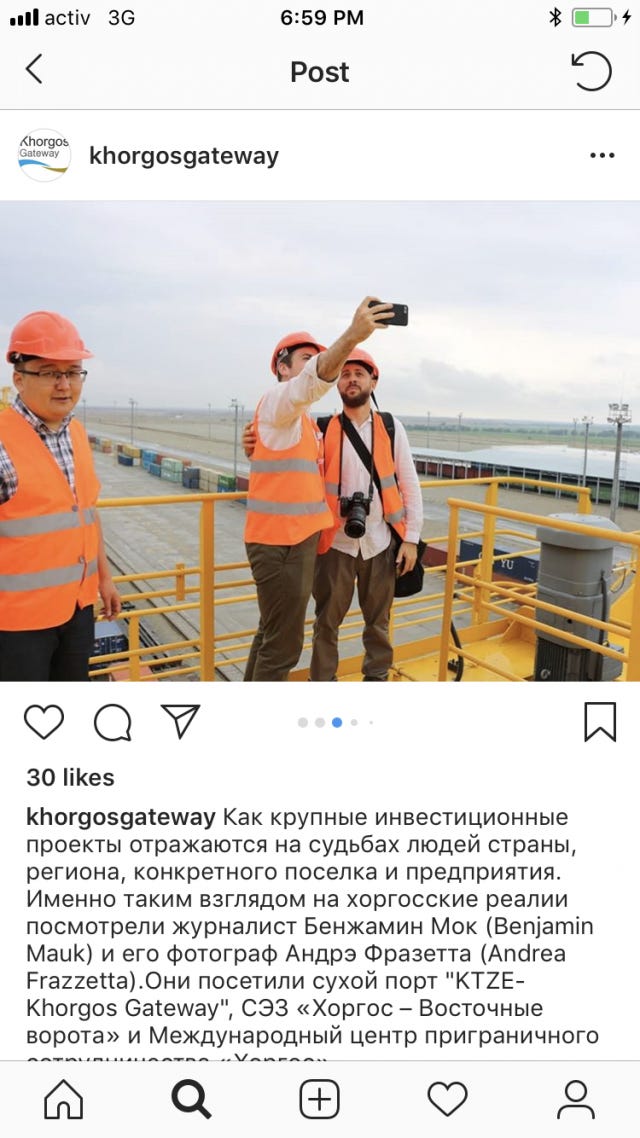 When we visited the free trade zone of the I.C.B.C., a reporter turned up from the state-run railroad newspaper — she had been reaching out to us since before the start of our trip, and seemed to know our itinerary even before we did — and she tagged along for part of the tour, reporting not on the free trade zone, but on our reporting of it. At the end, she sat me down for an interview, which appeared a day or two later in an article devoted to a visit by Times journalist Бенжамин Мок.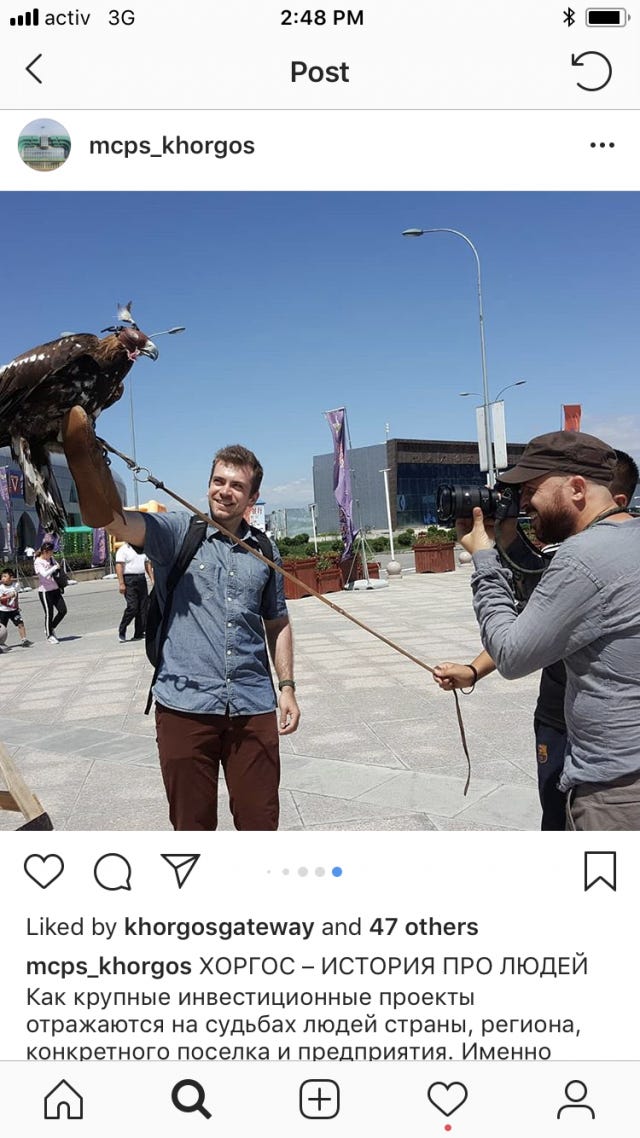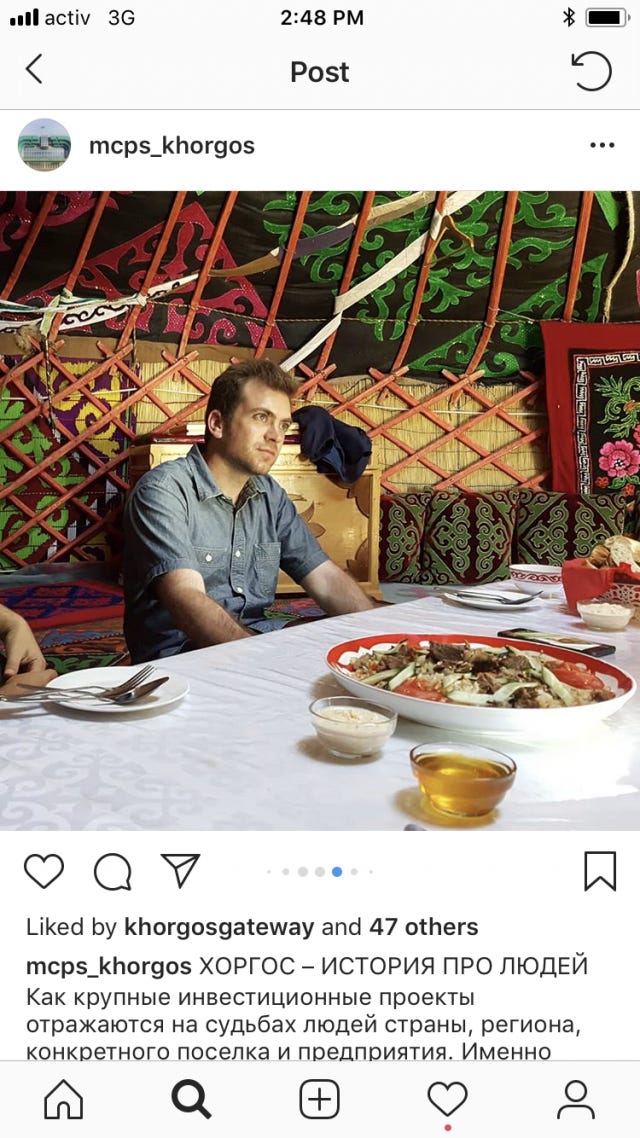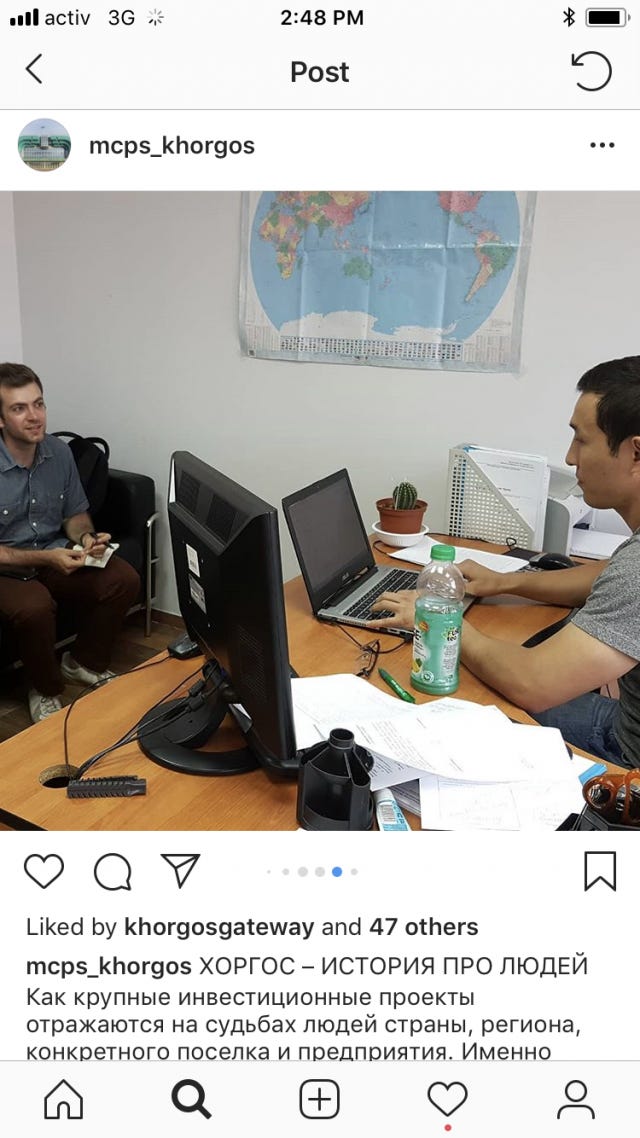 Even at the trial of Sayragul Sauytbay, I was solicited for a quote outside the courtroom by, among others, a reporter from Esquire Kazakhstan. I couldn't explain why anyone would want the opinion of a foreign journalist—paranoiacally, I wondered: could some of them have been gathering intelligence? I had no intelligence!—but it was a dizzying experience to field local reporters' questions while at the same time seeking comments myself. And although I always distanced myself from the Times, clarifying that I was a freelancer and could only speak for myself, not the magazine or newspaper, I'm not sure this caveat ever made it into print. In any case, my story never changed: I was there to tell the stories of workers and families living around Khorgos, and the effects the new developments have had on them.
Months later, I still don't know what to make of this recursive media attention (somebody should have interviewed the interviewers about their interviewing me!). Some of it seemed innocent while some was clearly for purposes of state PR, to help frame my visit as a positive one even before my piece appeared. It's also undeniable that, recursiveness aside, attention from an international media outlet is news in most parts of the world: When you bring a place to wide attention, you invite scrutiny, which is frightening. At best, it's a kind of audit; at worst, a hit piece. People are right to worry about how they'll be depicted and how their stories will be framed. I tried to be as forthcoming as possible during my reporting, and I spent a lot of time later on thinking about how the people I interviewed would see themselves in the piece, even if the problem of representation is intractable, and the entire discipline, as Janet Malcolm famously wrote, indefensible.
I wondered how these same outlets would respond to my story once it came out. Would they delete their material featuring me? Issue a corrective? Deny the descriptions of smuggling, corruption, and gleeful extralegal corporal punishment? They would not. Instead, they've prominently posted about the story and linked it in their bios, warts and all, and have even quoted from it (albeit selectively):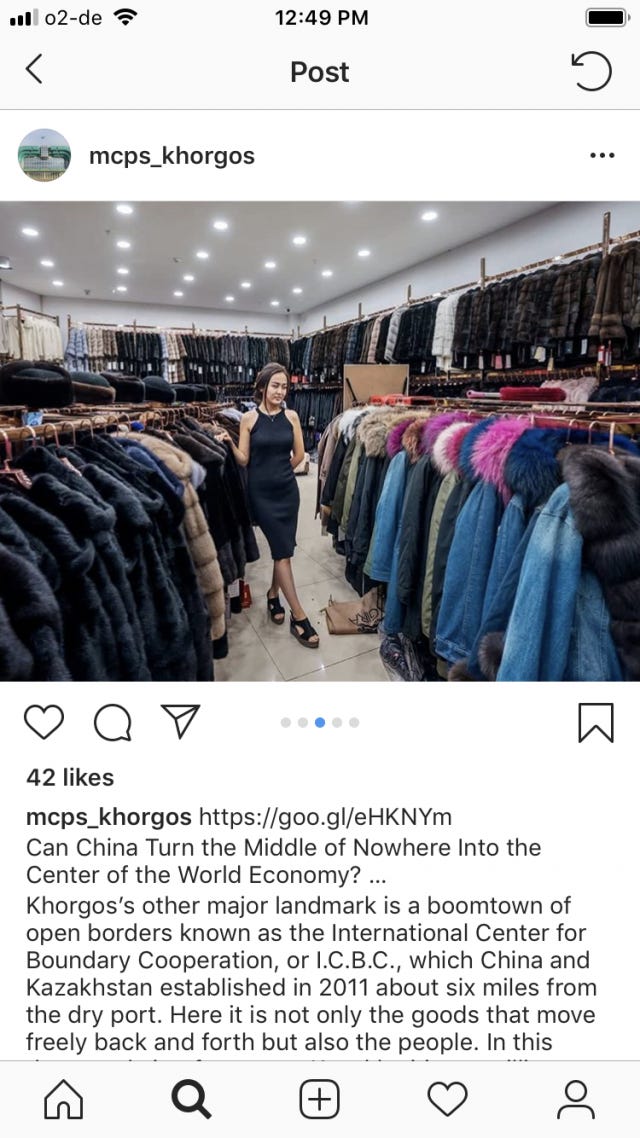 .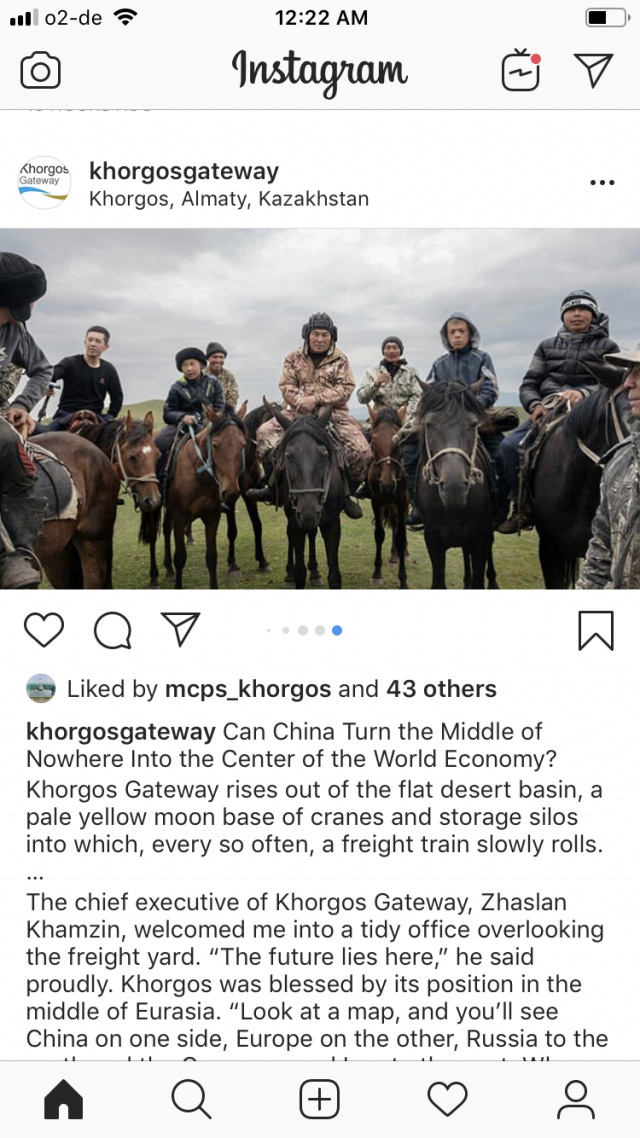 Like I said, no bad press. Letter archive here.
xo
Ben